A Career in Project Management
Embarking on a career in project management is a journey towards professional fulfillment and impactful contributions to organizational success. In the dynamic landscape of today's business world, project management stands out as a cornerstone for effective execution, seamless collaboration, and goal attainment.
The virtues of a career in project management extend beyond the realm of efficiently orchestrating tasks and timelines; it is a profession that fosters leadership, strategic thinking, and adaptability.
Project managers find themselves at the nexus of innovation and problem-solving, steering teams towards collective achievements. This role demands not only a mastery of organizational skills but also a keen understanding of human dynamics, making it a uniquely holistic profession. As businesses increasingly recognize the pivotal role of project management in achieving objectives, individuals entering this field find themselves not only in high demand but also equipped with skills that transcend industries and open doors to a diverse array of opportunities.
How to Earn a PMP
Certifications validate your commitment to the field of project management and sets you apart from others within your company or other candidates for a potential future position.  If your professional development path is project management oriented, you'll likely be considering a PMP certification.
Learn the details of earning you PMP on our CERTIFICATIONS page.
Maintaining Your Certifications
You worked hard to earn your PMP and other certifications, and maintaining them is imperative! PMI requires continuing education, called Professional Development Units (PDUs), to maintain your certifications. Typically, one PDU is earned for every one hour spent in a planned, structured learning experience or activity.
The PMIRGC Board of Directors are working to provide events and training to help our members earn PDU's:
Monthly educational presentations on topics or speakers with influence, impact, and experience in project management. We have virtual and in-person monthly meetings offering PDU earning opportunities.
Chapter workshops and conferences, we often host Professional Develop Days and multi-day workshops exploring specific project management areas such as leadership, communication, scheduling, defining scope and requirements.
Giving back PDU's, through serving as a Board Member or volunteering on activities arranged through the chapter.
Check our event calendar on our Chapter's website to see what is currently scheduled, and check back often to see what events are added as we finalize them.
Reporting PDUs
Reporting PDU's is managed through your Dashboard on the PMI global website. You are responsible for earning all the necessary PDUs within your three year certification cycle and reporting them accurately. In addition to helping you earn PDU's, PMIRGC offers to ways to help you report PDU's.  
PMIRGC will submit PDU's on behalf of all PMI members who attend our in-person chapter meetings, workshops and trainings.
PMIRGC Board Members can also provide assistance, contact concierge@pmirgc.org
Click to download the PMI handbook with instructions on all things related to PDUs.


ccr-certification-requirements-handbook.pdf
PMI groups PDU's into three core skill categories: Ways of Working, Power Skills, and Business Acumen.
The PMI Talent Triangle is Evolving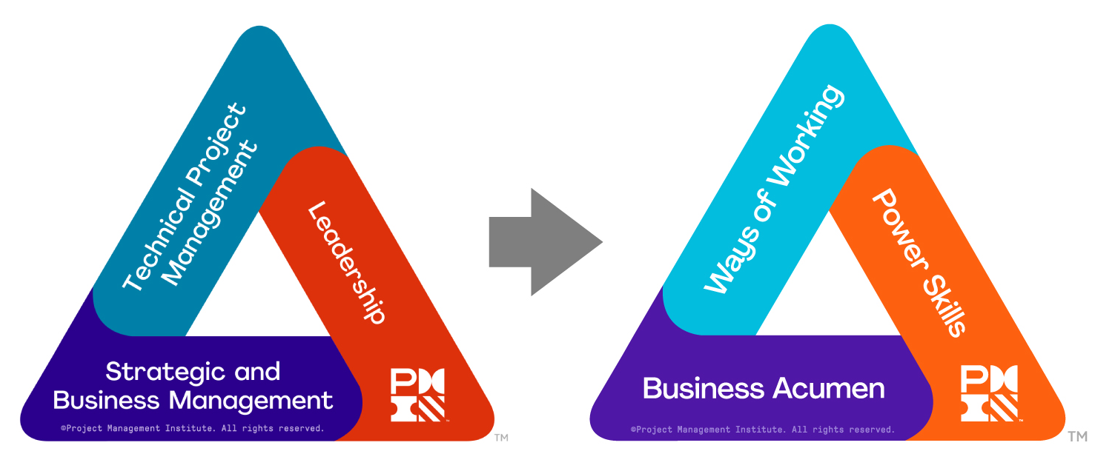 PMPs must accrue a minimum of sixty (60) Professional Development Units (PDUs) every three years. The PDU Cycle begins the year of initial certification. PMPs must also comply with the PMP Code of Professional Conduct to maintain certification status.